About us
We're
50th (Northumbrian) Infantry Division, an Arma 3 European serious Coop milsim set in the World War II
. Our roots date back to summer of 2016, when our first scheme for World War II unit was created. We disbanded due to low number of WW2 era assets. Next edition came to live mid-summer 2017. We came through many changes, including identity-related ones. In early December 2017, our current focus has been finalized and we decided to choose a final name for our unit. We're doing our best to bring period-accurate missions, with no extreme alternative history added to our main missions (Such as British Commandos in Poland 1939, for example)
Despite our main focus being the British forces, our side missions can focus on any nation of World War II. This way, we can make the gameplay a bit more varied. Modern events also happen from time to time, but our main focus always was and always will be World War II.
Real 50th
Our name is not entirely original. We're based on a real British division carrying the same name, and our main campaign is solely about the fights that it participated in. It fought in France 1940, North Africa throughout 1942-1943, took part in Invasion of Sicily in 1943, became the division that stormed the Gold beach on 6th of June 1944 and later appeared in the plans for Operation Market Garden 1944.
Operations, attendance and other affairs
As we stated previously, we're a serious milsim, thus we do our best to maximize the immersion. There's no room for many HUD elements, Third person view or vanilla Arma 3 medical system. In our milsim, we utilize Task Force Radios for proximity voice chat and ACE3 for item interactions and medical system.
Despite that, we know that it is just a game after all. We're relaxed about the operation attendance of our members, as all of us have jobs, school or other affairs to attend to. As long as you're not notoriously absent without notice, we can understand it. We're also new player friendly, no matter how small mod experience you have or how new you're to the game, we'll make sure to help you in your beginning phase and most importantly - never hesitate to ask for help if you need it.
Our operations are conducted in CEST (Central European Summer Time, GMT+2) in Summer, CET otherwise. That is one hour ahead of Great Britain. These are the days on which we play:
Friday
- Side mission - 8 PM CET / 7 PM British Time
Saturday
- Main mission - 8 PM CET / 7 PM British Time
Sunday
- Training - 7 PM CET / 6 PM British Time
We optionally may host bonus missions in other dates, depending on whether we're able to create a mission and if people are willing. Those are, of course, not mandatory at all.
Requirements to join
We require that candidates are at least *16 years old and that they have a working microphone. Teamspeak 3 and a legal copy of Arma 3 are required too, obviously.
*You can be accepted into our milsim at age 15 too, if your voice and attitude show that you're mature enough.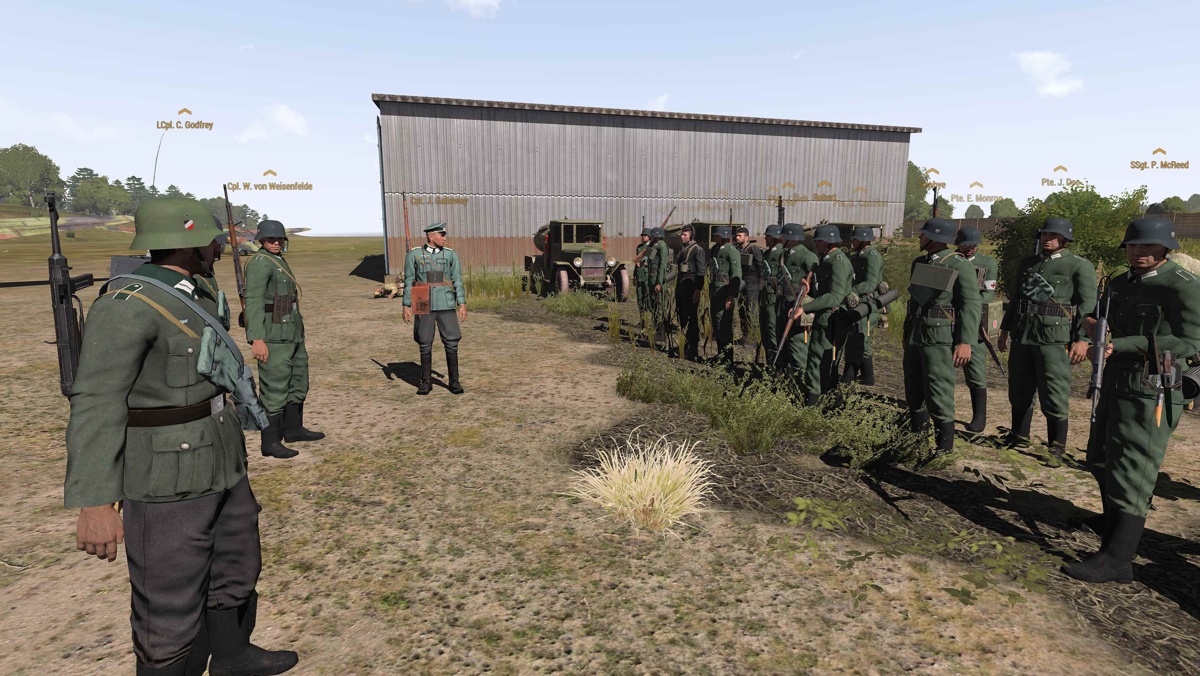 External links
Owner's Steam profile:
https://steamcommunity.com/id/v5000/
Main modpack:
https://steamcommunity.com/sharedfiles/ ... =924083602
Steam group:
https://steamcommunity.com/groups/50thNorthumbrian
Discord:
https://discord.gg/ncspBCT
Teamspeak: 50thinf.tsdns.pl