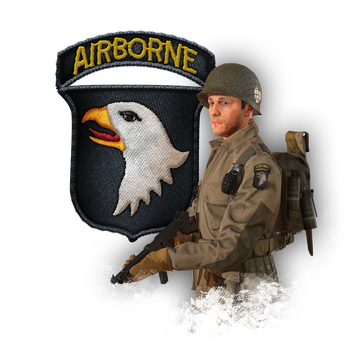 We are the 101st Airborne, Fox Company. We are a US-based unit and operate in the EST timezone.

Our unit is a semi-serious, realistic unit. What I mean by this is that everything that we wear and do is realistic, with a few caveats here and there, however, our attitude in-game is semi-serious. In practice, we do not call people by their ranks or say yes sir/no sir. Instead, we just use people's names. This also allows for open banter between squad members when moving to and objective or holding at a position. However, when told what to do we expect everyone to listen and act accordingly to complete the objective.

With being a WW2 101st Airborne unit, we also have a structure that is very similar to what they were. As such, we are currently a single platoon. In that platoon, we have three ten-man rifle squads and one four-man mortar section. There is also a medical attachment that grows or contracts so that there is one medic per squad.
Schedule
Monday
Free Day
Tuesday
Free Day
Wednesday
Mini Operation 1900 EST
Thursday
BCT and Jump School 1900 EST
Friday
Free Day
Saturday
Free Day
Sunday
Main Operation 1830 EST
Joining
If you're interested in joining our ranks, then the joining process is simple. Just join our
discord
and message an Officer or NCO. From there we'll have you join our TeamSpeak, confirm the training dates, and you'll be all set! There is no age minimum requirement, however, failure to be respectful or listen to orders will result in removal from the unit. Other than that, I hope that you consider joining us and if you do I'll see you on the battlefield!